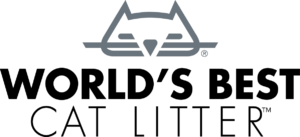 Your submission is successful
Thank you for your submission and your infomation is well receive.
World's Best Cat Litter™ offers a variety of natural cat litter formulas — all made from the concentrated power of corn. Need a clumping cat litter that is easy to scoop? We've got the perfect cat litter solution. Looking for the perfect litter for multiple cats? We've got a multiple cat litter designed specifically for the many cats in your life. Is your cat having trouble going in the box? We've got a litter that includes a natural attractant that keeps your cat going in the box, every time.
OUR DIFFERENCE - Unlike clay litter, only World's Best Cat Litter™ uses a patented process to compress naturally absorbent corn into concentrated granules that TRAP ODOR DEEP INSIDE and FORM TIGHT CLUMPS ON CONTACT — so you can do more with less litter.
Thank you for sending a request to try out our new World's Best Cat Litter sample for your cat(s). Each entry will be given 1 pack of WBCL Clumping Litter 7lb/3.18kg. We hope you will be convinced.
Natural, Safe, Effective!