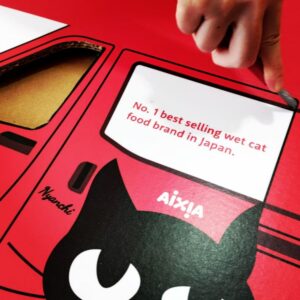 Aixia Carton Box Van Giveaway
Calling ALL AIXIA FANS!!
Get your LIMITED EDITION AIXIA VAN & JOIN IN THE VIDEO CONTEST!!
Here's how:-
Aixia Van Collection T&C
❤️ Accumulate $200 value of AIXIA/MIAW MIAW products ONLY.
❤️ Only receipts from 1 Nov 21 to 31 Jan 22 will be accepted.
❤️ Scan the receipts into 1 file (pdf format).
❤️ If the receipt includes other products, please indicate/highlight items & value belonging to AIXIA/MIAW MIAW.
❤️ Submit these receipts together with your Name, Contact Number & Address via email – promotions@reinbiotech.com
❤️ Once we received your email, we will notify on the delivery. Delivery will begin from 3rd week of December.
❤️ Submit your email by 31 Jan 2022.
❤️ Each qualified address will be entitled to 1 set of giveaway only (Aixia carton box van + Aixia goodie bag).
Aixia Van Video Contest
❤️ Make an Aixia Van video with your cats (not longer than 30sec)
❤️ Post it on Instagram or Facebook
❤️ Mention & tag @reinbiotech @aixia_nyantube @reinbiotech.aixia
❤️ Share this post with 2 friends' ID
❤️ Submit by 28th Feb 2022.
❤️ Results will be announced on 4th Mar 2022.
❤️ 8 Winning entries will get $80 worth of #Aixia products
❤️ Winning entries will be picked collectively by us & Aixia.
❤️ Open to Instagram and Facebook entries. Each ID is limited to 1 entry.
❤️ Show us your best video!!
.
BACK TO HOME