Tetra ® FREE Exclusive Tank Cleaner Magnet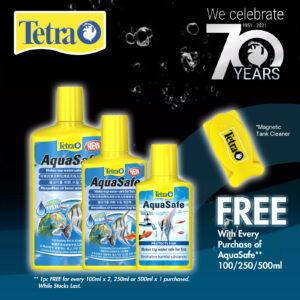 Tetra ® – Celebrating 70 Years!
Tetra ® Brand turns 70! In 1951, Dr. Ulrich Baensch founded the brand, which has grown to become the trusted leader in aquatics. Celebrate our 70th year with us!
Get a FREE exclusive tank cleaner magnet with **every purchase of Tetra AquaSafe, Tetra Vital/Arowana Vital or Tetra CrystalWater range! These products help in improving water quality in your tank. To receive the FREE Tank Cleaner Magnet, simply purchase 2 bottles of 100ml or 1 bottle of 250ml/500ml. The promo period is from September to October 2021. While stocks last. Look out for the promo at your regular LFS & online stores!
For more information, please email us – contact-us@reinbiotech.com
What are the Tetra ® products in this promotion?
Tetra AquaSafe is ideal for use during water changes and when setting up a new aquarium as it makes tap water safe for fish within a matter of seconds: it removes any harmful substances in the water, such as chlorine, chloramine, copper, zinc and lead, immediately and thoroughly. What's more, its vitamin B mix reduces any stress that fish may experience during water changes. The product contains a natural plant extract to protect fish gills and mucous membranes, thereby promoting long-term health. The optimized care formula is perfectly tailored to the special care needs of fishes' skin and fins.
Tetra Vital promotes vitality, well-being and natural colouring. TetraVital adds essential vitamins, minerals and trace elements from the natural habitat of the fish that tap water cannot provide, or which are used up in the aquarium. This creates an almost natural environment, where fish can feel at ease and develop their natural colouring.
Tetra CrystalWater quickly and reliably eliminates clouding from aquarium water caused by dirt particles by using carefully selected minerals, gently eliminate all kinds of dirt particles. The aquarium water is crystal clear within just a few hours.